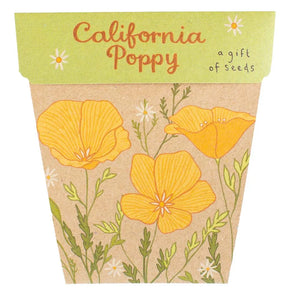 Seed Pack - California Poppy
Sow 'n Sow
Regular price $10.50 Sale
Celebrate joyous moments and cherished friendships by gifting a California Poppy Gift of Seeds. These enchanting, sun-loving flowers embody the essence of joy, beauty, and enduring connections.
As the poppies bloom with vibrant orange hues, they mirror the happiness shared in cherished moments. This thoughtful gesture not only symbolises the warmth and positivity of the friendship but also offers the opportunity to nurture a living reminder of the cheerful times and the deep connection that brings light to their lives.
Featuring original illustrations by Melbourne artist Daniella Germain, this Gift of Seeds is designed and made in Australia, printed on 100% post-consumer waste recycled card and plastic free. Our products are designed to promote a connection with nature and enjoy simple pleasures.
Features:
• Greeting card and gift combined
• Recycled envelope, seeds and plant label included
• Great gift for posting (requires two postage stamps)
• Australian made
• Plastic free
• 100% recycled and recyclable