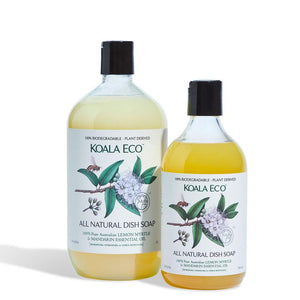 KE Dish Soap
KOALA ECO
Regular price $16.95 Sale
Natural Dish Soap - with 100% Pure Australian LEMON MYRTLE and MANDARIN Essential Oils
Our LEMON MYRTLE with MANDARIN DISH SOAP cuts through grease and food residue leaving your dishes, pots and pans sparkling clean. The powerful yet eco-friendly formula cuts through dirt, grime and harmful food-borne bacteria without the need for toxic chemicals.
Allow this duo of citrus to lift your spirits and infuse your home.
Environmentally friendly · Non-toxic · Vegan · Never tested on animals · Palm oil free · Grey water safe · Free of dyes, masking agents, synthetic perfumes, chlorine, bleach, sodium laurel sulphates & phosphates.
INGREDIENTS:
Lemon Myrtle (Backhousia citriodora) and Mandarin (Citrus reticulate) essential oil, Australian filtered water, sea salt, Plant-based biodegradable surfactant (soap), plant-based food-grade biodegradable solubiliser.
Please note that products with Mandarin will have an orange tinted colour from the cold pressed Mandarin essential oil. This delicious aroma may also bring feelings of joy and happiness.
* patch test if unsure of suitability