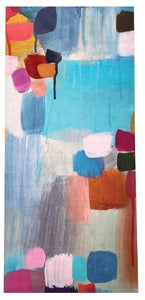 Wild Mingo - Dot Workout Mat
Wild Mingo
Regular price $120.00 Sale
Are you seeing spots? No, it's our Dot 'mingo workout mat and she's something quite special!
Our Dot mat with our signature 'mingo strap. Designed to give you focus for all those crow pose attempts. No more worrying about slipping during your yoga session - feel secure and confident as you reach for the stars (or at least the ceiling)!
Oh, and did we mention it's fully machine washable? We are committed to creating both beautiful and sustainable props for your workout. Ones that last and that you'll keep reaching for over and over again. Our workout mats are made from recycled materials which mean when they get a bit icky post your hot yoga or pilates class you can put them straight into the machine to clean those 'mingo feathers!
The important stuff:
Perfect for yoga/Pilates/Barre. Washable. Recycled rubber/microsuede (vegan). Non-slip. 183x61cm, 3mm thick. Includes Wild Mingo carry strap.