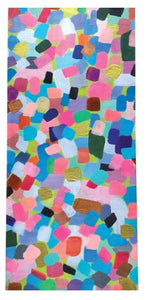 Wild Mingo - Confetti Workout Mat
Wild Mingo
Regular price $120.00 Sale
Add a little confetti to each day! Our Confetti workout mat is designed to leave a trail of sparkle wherever you workout

Our Confetti workout mat with our signature 'mingo strap. Perfect for your pilates or yoga class, before meeting your friends for a cheeky mid-week cocktail. It's also the life of the party - unroll it for a colorful meditation space that'll make your friends exclaim "oooh la la!" in envy.
Oh, and did we mention it's fully machine washable? We are committed to creating both beautiful and sustainable props for your workout. Ones that last and that you'll keep reaching for over and over again. Our workout mats are made from recycled materials which mean when they get a bit icky post your hot yoga or pilates class you can put them straight into the machine to clean those 'mingo feathers! 
The important stuff:
Perfect for yoga/Pilates/Barre. Washable. Recycled rubber/microsuede (vegan). Non-slip. 183x61cm, 3mm thick. Includes Wild Mingo carry strap.