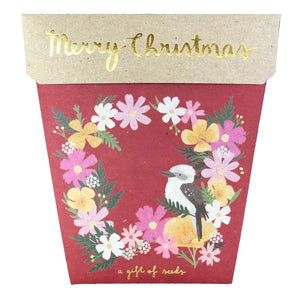 Seed Pack - Christmas Wildflowers
Sow 'n Sow
Regular price $10.50 Sale
Specially designed for gifting, this Gift of Seeds features a botanical illustration embellished with a native Australian kookaburra and gold foiling for a festive touch.
Containing a mix of Californian poppy, cosmos and alyssum seeds, a Christmas Wildflowers Gift of Seeds will add seasonal magic to any garden. Give it on its own or combine it with another gift to bring festive cheer to any recipient.
Featuring original illustrations by Melbourne artist Daniella Germain, this Gift of Seeds is designed and made in Australia, printed on 100% post-consumer waste recycled card and plastic free.
Our products are designed to promote a connection with nature and enjoy simple pleasures.
Features:
• Greeting card and gift combined
• Recycled envelope, seeds and plant label included
• Great gift for posting (requires two postage stamps)
• Australian made
• Plastic free
• 100% recycled and recyclable
There is space on the back to write a message, a plant label is included as part of the packaging and each Gift of Seeds comes with a brown kraft envelope for mailing. Perfect for those family and friends who can't be with you this year.
Featuring an original Australian themed illustration by Melbourne artist Daniella Germain, this gift and card in one is plastic free and made in Australia from 100% recycled card