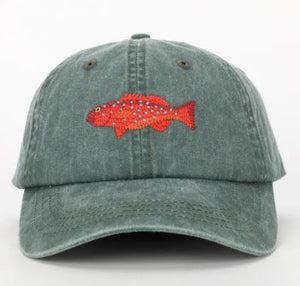 Pallion Point Cap - Coral Trout Lid
Pallion Point
Regular price $49.00 Sale
The Coral Trout (Plectropomus leopardus): is there a better fish in the sea? From spearing to searing, the Coral Trout will always be a favourite among ocean lovers. It's a classic fish to have plastered on your lid, and the iconic blue-spotted red fish is sure to turn heads on the boat ramp. This lightweight hat has a weathered look and feel, making the Coral Trout fish lid as comfortable as a worldly old favourite. 
Care Instructions:
Fish lids are made of pre-washed soft cotton and are pretty resilient little noggin' toppers. By following these simple care tips, your lids should survive your salty adventures for years to come. 
Rinse your lids with fresh water after every ocean outing to keep them soft and avoid the clasp corroding. Hand-washing in cold water works best.
If they're looking worse for wear (we're talking sweat marks, dirt or salt stains) a gentle hand-wash with light detergent or mild soap should get them looking fresh again. Use cold water and avoid excess rubbing - gently does it. 
Never put your fish lid in the dryer, or you'll end up with a mini-me cap. Always air dry in the shade after washing.
In warm or tropical climates, keep your lid hung up or stored in a dry, shaded place. Keeping it in the sun (eg. on the dash of your car) can cause your lid to fade fast.
Please note that if you expose your lid to salt water, the hardware (metal bits) will start to corrode if you don't rinse them. While we will always replace faulty product, we won't be replacing lids that haven't been loved... rinse your lids, kids.