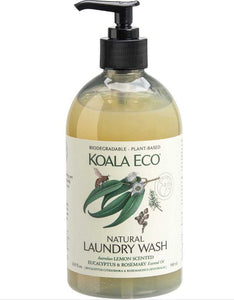 KE - Laundry Wash Lemon Scented
KOALA ECO
Regular price $18.95 Sale
Clean Laundry,
Clean Conscience
500ml / 1L
Natural & non-toxic
Safe for sensitive skin
High-performance
Effective with cold, warm, and hot water
Ultra-concentrated
Suitable for top and front loaders
Biodegradable & greywater safe
No optical brighteners
Naturally antibacterial
Suitable for hand washing
Removes dust mite allergens
No synthetic fragrance
Plant-based
Eco-friendly
Our Lemon Scented Eucalyptus & Rosemary Laundry Liquid combines two of nature's best antibacterials in one powerful, aromatic formula. This biodegradable and eco-friendly plant-based formula effortlessly delivers a thorough and effective wash without the use of harsh chemicals, and is safe for sensitive skin.
Allow the freshness of lemon and the warm and healing fragrance of rosemary to care for and deep-clean your laundry, infusing it with the scents of Australia.