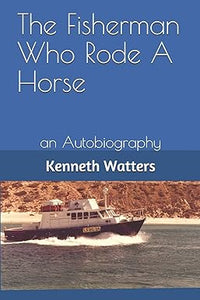 The Fisherman Who Rode a Horse
Kenneth Watters
Regular price $39.50 Sale
An Australian Fisherman's Autobiography of Sea Survival and Ocean Adventures.
This is the story of my life from 1963 to 1975.
I left High School with acceptable results in 1963 to go fishing professionally up and down the West Australian coast. I rode out several cyclones at sea, joined in the fun and games of my peers both ashore and at sea.
I was involved in most types of fishing, crayfishing, shark fishing, prawn fishing, tuna fishing and beach seine fishing.
In 1966 I took a job at the Carnarvon NASA Tracking Station between seasons where I developed a very strong interest in how it all worked. I returned to school at the WA Institute of Technology (now Curtin University) and graduated as an Electronic Engineer in 1970 and from there I became an Engineer at the NASA Tracking Station at Orroral Valley in the Mountains of the ACT.
In 1974 I left the Tracking Station to return to Carnarvon in West Australia to take a position, with the Nor West Whaling Company, as research engineer. After 6 months in Carnarvon NWW transferred me to Queensland to do research for their Gulf of Carpentaria fleet, home ported in Cairns.
Having a strong desire to return to WA for the birth of our second son and not being happy in Cairns my wife and I journeyed back to WA to take up a position with the M G Kailis group to do further research in the fishing game.
While writing this autobiography in 2003 my wife and I were living in Ocean farm. A friend living close by called in and asked if I would like to accompany him on a farm run. He was managing several farms in the area. On the way back to Ocean Farm we had a very nasty accident. We were travelling on a dirt road and as we came over a crest found a vehicle coming at us down the centre of the road, quite normal on a dirt road. Bob went to the left as far as he could as the crest was atop a cutting and the banks on each side of the road were quite high. The van coming at us turned to the same side of the road and we hit head on. The young guys in the van were from Norway and they drive on the right side of the road opposite to us Aussies,
The young guys were both killed. I took it pretty badly as they were kids the same age as my two boys going off windsurfing at Gnarloo the same spot my kids surfed. I came down with a severe case of depression and closed of writing my biography.
If there is ever a strong enough demand I might take it up again as I have another 20yrs of fishing experience culminating in operating a hovercraft service between Carnarvon and Monkey Mia.
This would mean not only selling some books but getting great feedback from those kind enough to purchase my book.
I would like to thank my wife for not only putting up with my long absences at sea and raising my two wonderful boys but for being my best critique.
I would also like to thank Terry Kierans an ex Tracky for editing my book.
Hope you all get some pleasure and laughs from my story.
Ken J